What's next for Grand Theft Auto after
It's the summer of 2004 and we're on the hinges of a new Grand Theft Auto title — all that's needed is the screws to put the proverbial door in place really, which will come in the fall, and then we'll be playing to our heart's delight!
The question that is ultimately inevitable: what next?
But then there's the question… the question that, probably wont be widely asked immediately after the game's release, but that is ultimately inevitable: what next? Well, this article is here to answer that with the obvious, the not so obvious, and the probably technologically impossible. But hey, imagination never hurt anybody.
Shortly after the release of "Vice City" rumors started about the specifics of what the next title would be. The name "Crime Online" surfaced somewhere through the confusion that internet gaming sites often provide, but traces of its existence quickly subsided along with a fan site of the same name, to forever be lost in the annals of time.
I'm here to bring it back though, except I'm going to detail exactly how such a title would be if the mastermind behind its production was none other than… well, me. My concept is as follows: Crime Online is a MMORPG (massive multiplayer online role-playing game) with its roots in different cities rife with crime and all around grit. You must control your custom player in real time through a city filled with other players like yourself… you must climb the ladder.
I'm going to detail exactly how such a Crime Online would be if the mastermind behind its production was me.
Details, anyone? You tear open the box and install the game onto your computer. You start by creating your person. You start with a name. There is an extensive list of common first names, as well as a long list of surnames. Want a name not on the list? Technology prevails. Through the latest advances in PC gaming, you can come up with your own name and through advanced phonetics understanding the game will be able to pronounce your name properly.
After that it is time to put a face and a body to the name. In a system similar to the latest Tiger Wood's title or the one in "Fight Night 2004", you choose all the characteristics of your face, hair, body type, skin tone, height, weight, etc. Then it's time to pick up the cheapest outfit available on the streets as you're only started with $1000.00 and that wont last you very long in the city. More on clothes later.
The game will be able to pronounce your name properly.
Now you need a voice. Through the implementation of an in-game interface, you will be able to type commands for speech while playing. There will be a substantial amount of different voice types to choose from though their vocabulary, understandably, is limited to some simple/moderate sentencing. However, during gameplay the cat will very rarely have your tongue. A thesaurus is implemented in the game's system and if a word or phrase isn't recorded it will quickly come up with a similar match. Impressive technology.
After this, you'll need to start in the city. From the game's release there will only be one major city open (though more will be added in expansion packs and through patches as time passes), but it will definitely be enough to keep your interest. From the beginning you need to decide which path you will choose to take: good or evil. If you choose evil you have to make a quick start and watch your back at the same time. An up and coming thug might make his start by knocking over a gas station or holding up a small bank. As time goes by and when he gets better and starts to add points to his stats, he will need to make a definitive choice… go Lone Ranger or join a gang.
A productive beginning [to a law enforcement career] is busting some low life common thugs vigilante-style during a two-bit robbery.
After a few successful solo jobs you should have gangs and crews alike knocking on your door for recruitment. This is the suggested route, most gangs will kill you for making profit on their grounds if you're alone. The only real way to go solo is by becoming a hitman — which is a service to the gangs, so you'd be forgiven. Even this is very dangerous though.
However, if you choose the path of good then you will need to make an equally dangerous start. (If you haven't figured out already, there are no programmed NP-cops in Crime Online). A productive beginning is busting some low life common thugs vigilante-style during a two-bit robbery. Get the scouts to notice you. After that it's to the police academy you go. Not only will you get extensive and useful training there, but you will get many points added to your stats. This is an advantage of authorities, while criminals might beat the police in numbers, the good guys definitely have the upper hand when it comes to skill. That being said, it wont take too long to be in blue and driving a painted Crown Victoria with sirens on it. If you're good enough you can even graduate to the SWAT!
If you choose the path of good, you can even graduate to the SWAT!
Let's talk a bit more about your character and get one thing settled from the start… you can die. And I don't mean die and then two seconds later you're healthy and fresh from a hospital, only a few dollars extracted from your funds. I mean, you can die totally. It's hard though, so don't panic. In the beginning it's easier to die, which is convenient because it's a lot harder to die when you've been upping your player's stats for months. Here's how it works:
You're a common thug and you're on the way to your first petty job robbing a convenience store. One problem, the clerk has a powerful shotgun behind the counter and shoots you in the face, close-range. You die instantly and have to start over (hopefully you saved your attributes and custom looks before you started an actual game, the only thing you'll have to change is your name luckily). Let's go over the reasons you died… one, it was a shotgun and it was triggered to go off in your face, and two you have no money for a highly expensive head operation. Now lets alter the situation a bit… the clerk has a small Smith and Wesson pistol and shoots you in the belly. You're taken to the hospital and are forced to blow all your money and your designer duds on an operation for your stomach.
As a character becomes exceedingly successful more of the "little people" will start appearing around them as guards and such… that will make someone think twice before trying to do a hit on someone of such stature, after all — it'd be virtual suicide.
However, a Mafia chieftain, for example, might very well get shot in the head with that same Smith and Wesson… and survive after an expensive operation. Not only does he survive because he's got money, but also because after playing so long such a character has had their health threshold and their recovery stats worked up so extensively, where a virtual n00b has not. But even chieftain's got to die… after a certain amount of operations and life recoveries their cyber-bodies just can't take it anymore and run out of gas. Lets limit comebacks to twenty for advanced players. After all, not only is it hard to physically kill an advanced player, but it's harder to get to them. As a character gets more and more successful more of the "little people" will be around them guarding them and pampering them and such… that will make someone think twice before trying to do a hit on someone of such stature, after all — it'd be virtual suicide.
As far as missions go, they will create themselves due to the nature of the game.
All this crime stuff too much for you? Open a business and be a civilian! In addition to NPC peds, actual players will have the chance to become one as well. Since the dietary system from "San Andreas" has been brought back player's got to eat… so a restaurant would be a perfect legit business for someone too nervous for a life of crime. And since most people will opt for some sort of path that involves violence, the market wont be saturated with the same restaurants over and over again. However, rent or land for your business costs money too… so as Balzac has said, "Behind every great fortune there is a crime."
As far as missions go, they will create themselves due to the nature of the game. In order for gangs to make their money they will have to engage in racketeering activities such as prostitution, loansharking, numbers, shaking down businesses, and so forth. With that comes greed from within gangs and from rival gangs, and with that comes violence and bosses (real players, mind you) commanding gangsters in their crew to complete personal tasks. It's a very clever system to which no coding work was needed at all.
In addition to what gangs will do, they control turf and largely how an area looks and feels. The game will evolve to its surroundings… if a majority of the businesses in the area are porn shops and if the streets are rife with hookers and shootings, the atmosphere and cosmetics of that area will naturally erode for a full effect. Likewise, if an area is rich and low-crime, the look will be charming. Back on turf… gangs will
Gangs will first establish the turf by hanging there, and then eventually officially tagging the area.
first establish turf by hanging there, doing business there, and then officially tagging the area. The city map in the game's pause interface will accurately show an area according to its gang association… if the Diablos inhabit largely one area then it will be known to the masses through great technology, each Diablos member would be represented through a tiny red blip. Therefore such a map would accurately show concentrations of a certain gang in a certain area and where their influence starts to fade. Rival gangs can move in on territory by increments through the movement of a gang war.
Lets talk about how gangs will for shall we? Firstly, there are three different syndicate classifications: crew, gang, or family. To start a crew you must have at least a few people to go along with your plans before you go publicly acting as a crew, or else a bigger crew will instinctively try and squash you for fear of losing business to you. This is also why it is essential to choose the people who you allow in on your plans carefully, as they might rat to another gang for profit.
While criminal organizations are powerful when dealt with in large numbers, a gang with fewer members might have the upper hand if their stats are more advanced than their adversaries.
Gang classification is hit when your crew surpasses 60 members. Whole gangs are pretty difficult to exterminate and disassemble, but is possible with a powerful crew or another gang. Families are defined after the 120 mark is reached. It is impossible to get rid of an entire family, unless it is attempted by a much larger and more powerful family — and even then it is very difficult.
While criminal organizations are powerful when dealt with in large numbers, a gang with fewer members might have the upper hand if their stats are more advanced than their adversaries. Stats will be added to your character as long as you go. Your bullets will be come more effective with your aiming more dead-on, your health will be greater and your HP much higher, even your social skills will benefit at some point.
Crime syndicates are kept under control though, despite what stats are added up among gang members, and after a family has so many members things will inevitably get sloppy, police and SWAT forces will buckle down, and the problem will be contained.
Crime Online is the gift that keeps giving. Everything will be updated through either patches or expansion packs. All in all, Crime Online would be a great candidate for the next title in the Grand Theft Auto franchise.
As you can tell, Crime Online is a helluva game. It is also the gift that keeps giving. Everything will be updated through either patches or expansion packs. The things that will be updated through patches would be things like vocabulary enlargements, more clothing and accessory options, custom parts for cars, fronts and possibilities for legitimate businesses, and more. Things that would come available through store-bought expansion packs would be whole cities or states, additional voices, new buildings or added suburbs to urban areas, new and more powerful weapons, as well as new car models.
All in all, Crime Online would be one impressive gem of a game and a great candidate for the next title in the Grand Theft Auto franchise. But lets be realistic, we wont be seeing anything of this caliber for quite some time. Maybe a toned down version, though… well… wait… not so fast. Isn't that what we all said to the thought of an entire state and all the new features in "San Andreas"… before they were confirmed? Food for thought.
GTA 4 Disappeared From Steam, and Here's Why
Rockstar Games officially confirmed the reason for Grand Theft Auto 4's mysterious disappearance from Steam, and it's Games For Windows Live.In a statement sent to IGN, Rockstar Games confirmed that "With Microsoft no longer supporting Games For Windows Live, it is no longer possible to generate the additional keys needed to continue selling the current version of the game."
Every IGN Rockstar Game Review Ever
The option to purchase Grand Theft Auto 4 disappeared over the weekend, creating speculation over the reason. Grand Theft Auto: Vice City was briefly unavailable for purchase due to licensing issues with some of the songs in the game, and while GTA 4 faced similar issues Rockstar patched the game with updated music tracks.
Instead, Rockstar confirmed the issue was with Games For Windows Live, a service Microsoft shuttered in 2013. Games For Windows Live has created other issues with Steam games including on titles like Batman: Arkham City and Dark Souls.Curiously, Rockstar hasn't confirmed exactly when to expect Grand Theft Auto 4 to return on PC. Instead, a Rockstar spokesperson told IGN, "We are looking at other options for distributing GTAIV for PC and will share more information as soon as we can."
Grand Theft Auto IV Video – IGN Best of 2008 Nominee: Grand Theft Auto IV
1:33
Autoplay setting: On
Grand Theft Auto IV Video – IGN Best of 2008 Nominee: Grand Theft Auto IVWhether this means an updated port will become available on Steam or the Rockstar Launcher (or both) is still unannounced. Meanwhile, check out IGN's Grand Theft Auto 4 review for our take on Rockstar's adventure into Liberty City.
Tekken Tag Tournament (鉄拳タッグトーナメント Tekken Taggu Tōnamento, lit. Iron Fist Tag Tournament) is the fourth installment in the Tekken fighting game series and a spin-off of the main series, focusing on tag team battles. It is not canonical to the Tekken storyline. The game was originally available as an update kit for Tekken 3, running on the same System 12 arcade board. Tekken Tag Tournament was first released on arcades in 1999. It was ported to the PlayStation 2 home console in 2000 (released as a launch title outside Japan), though the PS2 version ran on an enhanced game engine with better graphics, which allowed the characters and stages to appear less angular and more detailed compared to how they used to look in the PS1 Tekken trilogy. The game combines most characters found in both Tekken 3 and Tekken 2.
The game received a sequel 12 years later, Tekken Tag Tournament 2, as well as a remastered for PlayStation 3 version entitled Tekken Tag Tournament HD.
Contents
1Story
2Gameplay
3Tekken Tag Tournament HD
4Moves
5Characters

5.1Returning characters
5.2New characters
5.3Cameos
5.4Unlockable characters

6Stages
7Music
8Trophies & Achievements
9Gallery
10Videos
11Trivia
12See Also
13References
14Navigation
Story
Tekken Tag Tournament is a non-canon game, having no storyline. According to Namco, it brought back the characters that did not return to Tekken 3: Baek Doo San, Bruce Irvin, Jun Kazama, and Kunimitsu. Their ages are unchanged from the previous Tekken games. It is more of a compilation of the Tekken series giving fans the opportunity to play as almost every character in the series up to that point, including many of those that had apparently been killed off in the main Tekken storyline. Of all the returning characters, Kazuya Mishima was the most heavily promoted, as he was featured prominently on the game's cover art and promotional material.
Gameplay
Tekken Tag Tournament was notable for having the largest character roster in the series up to that point, boasting a total of 39 playable characters. 37 characters return from previous installments in the series, and two new characters, Tetsujin, a costume swap of Mokujin, and Unknown, the boss character in this game, were introduced. The most prominent feature is its tag system. A player selects two characters and may tag out between them to utilize special combos and throws. When in Team Battle mode, the fights are also tag fights unless there is one person left on a team where they will fight alone.
Certain pairs of characters, when selected as a tag team, have special intros, win poses, lose poses, Tag Throws and also Netsu ratings. The Netsu ratings affect gameplay, and whether a character 'liked', was indifferent to, or 'disliked' another, would result in faster or slower ability to gain a damage boost when their partner was damaged. The special intros, win and lose poses are more lore based, and do not directly map onto the Netsu system, though the Netsu system can give hints as to who will have a special interaction. Some special intros can only be seen if the characters are wearing certain costumes.
Tekken Tag Tournament included a mini-game called Tekken Bowl, that challenged the player to use a team of characters to play a bowling game. Depending on the player's selected character, different attributes would be placed into effect in the mini-game. For example, Bryan Fury has a powerful roll due to his super strength, and he can use a targeting system to make more accurate shots because of his cybernetic enhancements. A physically weaker character like Julia Chang would have a much less powerful strike, but would be easier to control when placing the spin and amount of force on the ball. Yoshimitsu also has a targeting ability, which can control how straight the ball goes, making him one of the easiest to control characters of Tekken Bowl.
The soundtrack of Tekken Tag Tournament was also different from its predecessors, with strong techno and electro vibes.
Complementary pages:
Tekken Tag Tournament/Netsu System
Tag Throw
Tekken Tag Tournament HD
Tekken Tag Tournament HD is a high-definition update to the original game. It was included in Tekken Hybrid and showcased enhanced graphics and included trophies. This HD re-release, however, removes the "1 on 1" single-player and "1 on 1 VS" game modes from the PS2 version of Tekken Tag Tournament.
Moves
List of moves by character that can be performed in Tekken Tag Tournament.
See: Tekken Tag Tournament Moves
Characters
Returning characters
ALEX
(unlockable, costume swap of Roger)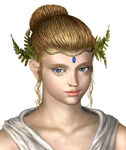 ANGEL
(unlockable, costume swap of Devil)
ANNA
ARMOR KING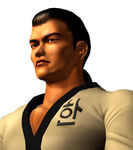 BAEK
BRUCE
(unlockable)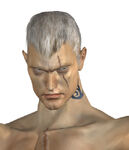 BRYAN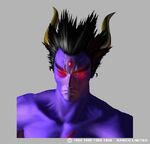 DEVIL
(unlockable)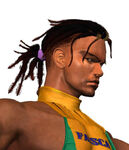 EDDY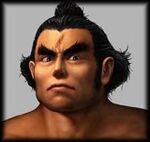 GANRYU
GUN JACK
HEIHACHI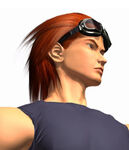 HWOARANG
JACK-2
(unlockable)
JIN
JULIA
JUN
KAZUYA
(unlockable)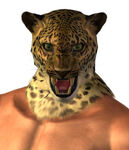 KING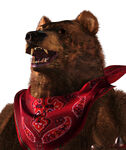 KUMA
(unlockable)
KUNIMITSU
(unlockable)
LAW
LEE
(unlockable)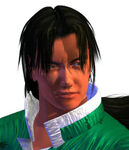 LEI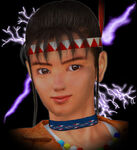 MICHELLE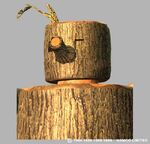 MOKUJIN
(unlockable, costume swap of Tetsujin)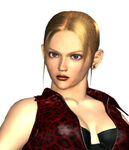 NINA

OGRE
(unlockable)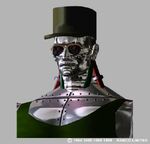 P.JACK
(unlockable)
PANDA
(unlockable, costume swap of Kuma)
PAUL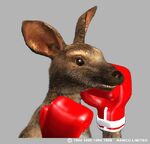 ROGER
(unlockable)
TIGER
(costume swap of Eddy)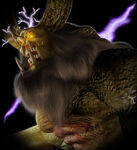 TRUE OGRE
(unlockable)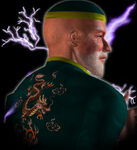 WANG
(unlockable)
XIAOYU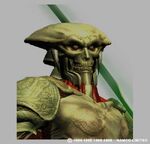 YOSHIMITSU
New characters
TETSUJIN
(unlockable)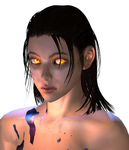 UNKNOWN
(final boss, unplayable in arcade version, unlockable in console version)
Cameos
Crow – seeing in the background after a strike in Tekken Bowl
Doctor Bosconovitch – seeing in the background in Tekken Bowl
Unlockable characters
Stages
| Character | Condition to unlock |
| --- | --- |
| Kunimitsu | Beating Story Mode one time with a character. |
| Bruce Irvin | Beating Story Mode two times with a different character. |
| Jack-2 | Beating Story Mode three times with a different character. |
| Lee Chaolan | Beating Story Mode four times with a different character. |
| Alex / Roger | Beating Story Mode five times with a different character. |
| Wang Jinrei | Beating Story Mode six times with a different character. |
| Kuma II / Panda | Beating Story Mode seven times with a different character. |
| Kazuya Mishima | Beating Story Mode eight times with a different character. |
| Ogre | Beating Story Mode nine times with a different character. |
| True Ogre | Beating Story Mode ten times with a different character. |
| Prototype Jack | Beating Story Mode eleven times with a different character. |
| Mokujin / Tetsujin | Beating Story Mode twelve times with a different character. |
| Angel / Devil | Beating Story Mode thirteen times with a different character. |
| Unknown | Beating Story Mode fourteen times with a different character. |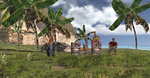 Eddy-A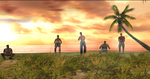 Eddy-B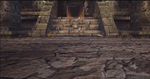 Heihachi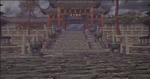 Hwoarang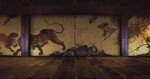 Jin-A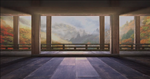 Jin-B
King
Law-A
Law-B
Lei
Nin
Nina-B
Ogre
Paul
School-A
School-B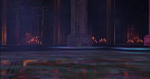 Unknown
Xiaoyu
Yoshimitsu-A
Yoshimitsu-B
Music
There were two soundtracks released for TTT, entitled Tekken Tag Tournament Original Soundtrack and Tekken Tag Tournament Direct Audio.
Trophies & Achievements
Main article: Tekken Tag Tournament/Trophies and Achievements
Gallery
Main article: Tekken Tag Tournament/Gallery
Videos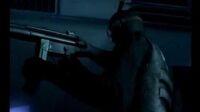 Tekken Tag Tournament Playstation 2 intro.
Intro.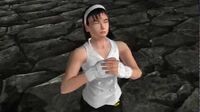 Tekken Tag Tournament HD Embu
Embu 1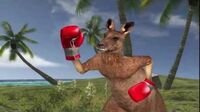 Tekken Tag Tournament HD Embu 2
Embu 2 featuring the animal fighters of Tekken
Tekken Tag Tournament – Michelle + Julia
A sample gameplay with Michelle Chang and Julia Chang.
Tekken Tag Tournament – Julia + Michelle
Another sample gameplay with Julia Chang and Michelle Chang.
Trivia
Tekken Tag Tournament is notable for these distinctions:

It is the only game to feature a licensed car; in this case, the Honda S2000 which is driven by Lee Chaolan in the first arcade intro cutscene.
It features the highest amount of participation by the Jack robots so far, being three.
The first appearance of the Tekken Bowl Mode.
The first Tekken game released for the PlayStation 2.
The last game where all of the fighting arenas have no walls.
The first game since the original Tekken to have the same stage music in every character's ending. This is not the case with Unknown's ending, however.
The last game where the character falls into the "arched back" animation if KO'ed while standing since Tekken 2, instead of the standing KO'ed animation from Tekken 3.
The first game in the series where players can preview characters' moves in Practice Mode.

This is also the first game where all of the characters' moves are in their move lists.

The last game where characters perform their win poses between rounds.
The first game where the fighters can jump up immediately after hitting the ground.
The last game where Jin uses Mishima Style Fighting Karate.
The last game where screaming no longer echoes when a character is KO'd.
The first game where health meters no longer load up before a fight begins.
The only game where Mokujin is a costume swap of another character.
The first game to feature stages with spectators or background people who are not watching the fight.

In this game, all Tekken 3 characters get an alternate version/color scheme of their Player 1 and Player 2 outfits.
Marshall Law is the only character missing from this game that would later return in the canonical games.

Doctor Bosconovitch and Crow are missing as well, but neither would return in a canonical game. Doctor Bosconovitch would make his return in Tekken Tag Tournament 2.

The differences between arcade and home versions are the stages' backgrounds and the characters' facial expressions during a battle:

The arcade version remains graphically similar to Tekken 3, as both Tekken 3 and Tekken Tag Tournament run on the Namco System 12 arcade hardware.
The home version (starting from PlayStation 2) marks the first Tekken game to have characters with facial expressions during a battle, fully modeled stages, animated environments, and having crowds on certain stages, which later apply to post-PlayStation Classic trilogy Tekken games.
When fighting True Ogre, the stage background in the home version is no longer blank like in the arcade version.

Unknown is the only character in the game to have a CGI ending, all other characters use the in-game graphics.
The chain throw combos seen in King's ending were later installed as an actual chain throw combo in Tekken 5, although all of the moves were based upon existing throws in Tekken Tag.
The non-canonical premise of the game may have been inspired by SNK's The King of Fighters '98, which similarly ignored series canon for a "dream match" that brought back deceased and obsolete characters.
Characters like Alex, Angel, Forest Law, Jun Kazama, Michelle Chang, Ogre, Prototype Jack, True Ogre, and Unknown, would not be playable again until the game's sequel, Tekken Tag Tournament 2.
After this game, Anna Williams, Armor King (replaced by a second Armor King), Baek Doo San, Bruce Irvin, Ganryu, Mokujin (who is replaced by Combot in Tekken 4) and Wang Jinrei would not appear again until Tekken 5. Roger does not make any more playable appearances after this game and is replaced by Roger Jr. in Tekken 5.
If the player pairs up Kazuya Mishima and Devil on the same team, they are able to morph into one another instead of tagging out of the fight.
Many characters have special before-battle and losing poses if they are paired up with certain characters.

For example, Law and Lei lay down on the floor in a comical fashion if they lose.
Nina kicks Bryan in the crotch with them both getting into their fighting stances immediately afterward if they lose a match.

In before-battle poses, some characters will do things with/to their partner occasionally depending on the leader.[1]

For example, when Paul and Kuma are paired, whomever the leader is will do their special attack to the other (Kuma will do his Salmon Hunter move on Paul, and Paul will do his Phoenix Smasher against Kuma).
Heihachi will turn Lee over his knee and spank him if paired together.

Ling Xiaoyu is the only character in the game to have two endings. It is viewable by beating Arcade mode in her school girl outfit. Xiaoyu also has the most outfits with an additional secret green/orange costume, only obtainable by selecting her with a random select.
There are no replays after every round, but after Arcade Mode has been completed, the player will be shown replays from the last round of every match while the word "replay" flashes on the top left of the screen rather than the top right. However, in Tekken Bowl, the word flashes on the bottom left except when a super strike occurs.
The stages in this game are the exact same locations from Tekken 3, being set in a different time of day. For example, Lei Wulong's Hong Kong Street stage took place in the daytime in Tekken 3, but in this game, it takes place at nighttime.
Although he is not playable, Doctor Bosconovitch appears as a spectator in Tekken Bowl. He can be "KO'd" by throwing the ball away from the lane towards him, which counts as a miss.
In Tekken Bowl, pressing the X button when the shot power bar is at its absolute maximum will result in an "Over Charge." The character will hang onto the ball when throwing it, sending them sliding down the lane and crashing into the pins in a comedic fashion. This will count as a miss, and the message "Caution: Please do not try this at home" will display.
While Tekken Tag Tournament is non-canon, it looks as though it would have taken place during the same time as Tekken 3 since all of the characters that were in that game's roster, as well as the fighters who last appeared and debuted in Tekken 2 but did not return in 3, have not aged yet.
The European instruction manual showing Jin's biography incorrectly has a picture of Kazuya instead of Jin.[citation needed]
This game marked the only appearance on the PlayStation 2 for Kunimitsu, Jack-2, Michelle, Gun Jack, Forest Law, Angel, Ogre, Armor King, Jun Kazama, Devil, Roger and Unknown. Some of these characters do make a cameo in character prologues and endings in other PlayStation 2 games, however.
Tekken Tag Tournament is one of the two games in the series to be released with an alternate cover. The Japanese and PAL covers shows a Kazuya's face alone, while the North American cover shows Kazuya as well as Bryan, Ganryu, Heihachi, Nina, Gun Jack, and Michelle behind him.
According to Harada, Sega had attempted to make negotiations with Namco to port Tekken Tag Tournament to the Dreamcast, offering a Virtua Fighter character of their choice for free in the game, but the offer was declined.[2]
Tiger Jackson is the only character whose name is not said by the announcer
The game originally had a Turbo Mode that was only released in certain events though certain attacks would also launch an opponent high; similar to Tekken 2′s Sky Mode. Oddly, all characters would exclusively use Anna's intro and win poses.
While there is no traditional stage selection, the player is able to select a stage for Practice Mode by hovering over the option on the main menu, holding L2, and tapping R2 up to twenty times depending on the desired stage.
Tekken 3 is a 3D fighting game developed and released by Namco on March 20, 1997. It was originally made for Namco's own proprietary System 12 arcade hardware, an upgrade from their prior PS1-based System 11 boards.
The game is set nineteen years after the events of Tekken 2, in which Heihachi Mishima defeated his own son Kazuya in the second "King of Iron Fist" martial arts tournament in order to reclaim his position as head of the powerful Mishima Zaibatsu. Tekken 3's plot centers around new character Jin Kazama, the orphaned son of Kazuya and Jun Kazama who has been trained by Heihachi over the last four years to fight in "The King of Iron Fist Tournament 3". However, Heihachi plans to use Jin and the other tournament participants as bait to lure out an ancient immortal being known as Ogre, believing he can harness the creature's power to further strengthen his own organization.
A console port of the arcade version was released exclusively for PlayStation in 1998. In addition to various audiovisual and gameplay changes, the console version adds two new unlockable characters and game modes, including a beat-'em-up called "Tekken Force" and the volleyball-inspired "Tekken Ball".
Tekken 3 was later used as the basis for the 1999 spin-off title Tekken Tag Tournament, which adds a tag team mechanic and restores most of the characters featured in prior Tekken entries.
Gameplay
Tekken 3 follows the same general control setup and fighting gameplay established by prior Tekken entries. The game uses eight-way directional controls and four buttons (as opposed to the six-button setup commonly used by Street Fighter and its derivatives), with each button roughly corresponding to one of the player character's limbs: Left Punch, Right Punch, Left Kick and Right Kick. By performing specific sequences of directional and button inputs, players can execute advanced character-specific fighting techniques, or link together successive strikes to form combo attacks.
All characters can execute grapple throws which cannot be blocked by an opponent and usually deal significant damage. Typically these throw moves must be performed at very close range, though there are a few exceptions. A character on the receiving end of a grapple can potentially cancel their opponent's grapple by performing a certain timed input accordingly, such as pressing Left Punch or Right Punch at the moment the grapple is initiated.
The 3D movement system has been completely revamped for Tekken 3 and plays a much more important role compared to previous Tekken titles. Players can now side-step into and out of the background in order to avoid an opponent's attacks and potentially set up their own counter-attack.
Characters
The original arcade version of Tekken 3 features eighteen unique playable characters, as well as the three clone characters Anna, Tiger and Panda that appear as alternate costumes for Nina, Eddy and Kuma respectively. Only ten characters are available upon the arcade hardware's initial activation: Jin, Forest, Hwoarang, Eddy, Xiaoyu, Paul, Nina, King, Yoshimitsu and Lei. The remaining hidden characters are time-locked, each one becoming available in succession after the machine has been in operation for a specified length of time.
The home console version has different requirements for unlocking the hidden characters as specified below. This version also makes Anna a unique character with her own moveset and adds two brand-new hidden characters, Gon and Dr. Bosconovitch.
New Characters
Jin Kazama: The son of Kazuya Mishima and Jun Kazama, he practices a blend of both parents' fighting styles in an effort to win the new Tekken tournament and take revenge against Ogre for the death of his mother four years prior.
Forest Law: After some friendly encouragement from Paul, Marshall Law's son enters the tournament in order to prove his strength to both his father and himself.
Hwoarang: The brash student of Taekwondo master Baek Doo San who enters the tournament after Baek is attacked by Ogre. His self-proclaimed rivalry with Jin also drives him to participate.
Eddy Gordo: An escaped convict and capoeira master. He enters the tournament with the goal of using the Mishima Zaibatsu's considerable resources against the criminal organization that murdered his wealthy father.
Ling Xiaoyu: The spunky teenage student of Wang Jinrei who has been promised her own theme park by Heihachi if she wins the tournament.
Panda: A domesticated female giant panda trained by Heihachi to be Xiaoyu's bodyguard, Panda is also frequently the object of Kuma's unwanted affections. She is an alternate costume for Kuma and shares his full moveset.
Julia Chang: The adopted daughter of Michelle Chang enters the tournament in search of her missing mother, who disappeared shortly after traveling to Japan to meet with Heihachi. She is unlocked by completing Arcade Mode with two characters, or by starting 150 matches.
Mokujin: Ogre's appearance also brings this two-thousand-year-old wooden training dummy to life which randomly copies other fighters' styles. It is unlocked by completing Arcade Mode with four characters, or by starting 250 matches.
Bryan Fury: A sadistic cyborg with his own unique kickboxing style who sneaks into the tournament while targeting Yoshimitsu and Dr. Bosconovitch. He is unlocked by completing Arcade Mode with six characters, or by starting 350 matches.
Ogre: The immortal "God of Fighting" responsible for the disappearances of several of the world's strongest martial artists, and the initial form of the game's final boss. He is unlocked by completing Arcade Mode with eight characters, or by starting 450 matches.
True Ogre: After being defeated once, Ogre transforms into a hulking gargoyle-like creature and gains the ability to fly and spew fire. He is unlocked by completing Arcade Mode with nine characters, or by starting 500 matches.
Tiger Jackson: This funky capoeira fighter was an unused character concept for Eddy that lives on as one of his alternate costumes. He is unlocked by completing Arcade Mode with sixteen characters and then pressing Triangle or Start when selecting Eddy. Alternatively, start 600 matches.
Gon: A special guest character exclusive to the console version and licensed from the manga of the same name, Gon is a small dinosaur of indeterminate species. He is unlocked by defeating Gon in Tekken Ball Mode or Arcade Mode as a random opponent. Alternatively, earn a first place high score in Time Attack or Survival Mode and enter "GON" as your name, or start 650 matches, or complete Arcade Mode with Dr. Bosconovitch.
Dr. Bosconovitch: The second of the two console-exclusive characters is an elderly scientist with a highly unorthodox fighting style in which he constantly falls over. He is unlocked by completing Tekken Force Mode four times and then defeating Dr. Bosconovitch in a special encounter. Alternatively, start 700 matches.
Returning Characters
Tekken 3 retains nine characters from the rosters of previous entries. However, King and Kuma are technically new characters with the same name and basic movesets as their predecessors from Tekken and Tekken 2.
Paul Phoenix: A hot-headed American judo expert driven to be the world's number-one martial artist. After narrowly losing the previous Tekken tournament, he's determined to win the third.
Nina Williams: An assassin who failed to kill Kazuya during the last tournament and was subsequently forced into cryogenic sleep for fifteen years, afflicting her with amnesia. Now controlled by Ogre, she is compelled to eliminate Jin.
King: After the original King was killed by Ogre, his old wrestling rival Armor King decided to train a former resident of King's orphanage to become his replacement. The new King enters the tournament to test his skills and avenge his namesake.
Yoshimitsu: The enigmatic leader of the Manji ninja clan seeks a cure for his ailing friend Dr. Bosconovitch in the form of Ogre's blood, leading him to participate in the new tournament.
Lei Wulong: An overzealous "super cop" from Hong Kong investigating the disappearances of prominent martial artists worldwide. His search eventually leads him straight to Heihachi's tournament.
Kuma: The son of the original Kuma has been similarly trained by Heihachi to be his personal pet bear and bodyguard. He is unlocked by completing Arcade Mode once, or by starting 100 matches.
Gun Jack: An upgraded version of the "Jack" line of combat robots manufactured by the Mishima Zaibatsu. He is unlocked by completing Arcade Mode with three characters, or by starting 200 matches.
Anna Williams: When she discovered her sister Nina had been placed into suspended animation, Anna requested the same procedure for herself. Unlike Nina, Anna retained her memory and wishes to reignite their sibling rivalry by fighting Nina in the tournament. She is unlocked by completing Arcade Mode with five characters, or by starting 300 matches.
Heihachi Mishima: The ruthless head of the Mishima Zaibatsu and orchestrator of "The King of Iron Fist Tournament 3" is also the game's penultimate boss. He is unlocked by completing Arcade Mode with seven characters, or by starting 400 matches.
Modes
In addition to standard Arcade and Versus modes of play, the home console version of Tekken 3 contains several modes not present in the arcade version.
Team Battle
(1 or 2 players) A mode in which players form teams composed of multiple fighters, with the goal of defeating all of the opposing team's fighters in succession. Each player can also choose their total number of team members, up to a maximum of eight fighters per player. The winner of each match regains a small amount of health.
Time Attack
(1-player only) A time attack version of Arcade Mode where players race against the clock to achieve the shortest time to completion. Difficulty, time limit and total number of rounds cannot be altered in this mode, and there is no option to switch to a different character after continuing.
Survival
(1-player only) A survival mode in which players attempt to defeat as many CPU opponents as possible on a single health bar. Each match consists of a single round, and the player character regains a small amount of health after defeating each opponent. The game ends when the player character's health is depleted. Difficulty, time limit and total number of rounds cannot be altered in this mode.
Tekken Ball
(1 or 2 players) A minigame inspired by volleyball or dodgeball where direct attacks between characters deal no damage. Instead players must use a large ball to deal damage, either by landing the ball on the ground inside the opponent's half of the court, or by striking the opponent with the ball. Player attacks that connect with the ball will "charge" it with damage, with successive strikes increasing the ball's charge. The ball's speed also increases along with its total charge. When fully charged, the ball catches fire and will deal heavy damage to any player it strikes.
The damage dealt by the ball also depends on the type of ball used: the Beach Ball deals 60% of damage from attacks, the Gum Ball deals 80%, and the Iron Ball deals full damage.
This mode is unlocked by completing Arcade Mode with all ten of the game's non-hidden characters (Jin, Forest, Hwoarang, Eddy, Xiaoyu, Paul, Nina, King, Yoshimitsu and Lei), or by starting 550 matches.
Tekken Force
(1-player only) A belt-scrolling-style beat-'em-up consisting of four stages. After selecting a character, players fight through waves of unarmed Tekken Force soldiers across four stages. Each stage ends with a boss fight against one of the playable roster of fighters, which vary depending upon the player's chosen character.
Heihachi is typically the final boss unless Mokujin is chosen as the player character, who fights a copy of himself as the boss in every stage.
Practice
(1 or 2 players) Players can practice without time or health limits here, either against a customizable AI opponent or a second player. This mode includes a "combo training" feature for learning certain characters' lengthier combo attack strings.
Theater
Any unlocked pre-rendered cutscenes can be replayed here, including each character's unique ending cutscene.
Once all cutscenes have been unlocked, additional options will appear; the first is a music player containing both the Tekken 3 arcade and console version soundtracks. A second new option allows cutscenes from the previous two Tekken titles to be replayed through this menu by inserting their respective discs.
Theater Mode is unlocked by completing Arcade Mode with all ten of the game's non-hidden characters (Jin, Forest, Hwoarang, Eddy, Xiaoyu, Paul, Nina, King, Yoshimitsu and Lei), or by starting 750 matches.
Story
Following the events of Tekken 2, Heihachi Mishima reclaimed his position as CEO of the Mishima Zaibatsu and established the "Tekken Force," a private army dedicated to safeguarding the Zaibatsu's interests. Under Heihachi's direction, the formidable Tekken Force has also claimed responsibility for quelling numerous small-scale conflicts across the globe, ultimately ushering in a new era of world peace.
Fifteen years after the second King of Iron Fist tournament, Heihachi receives a report that an entire squadron of Tekken Force soldiers has been wiped out while excavating a Mexican ruin. The report only describes the lone attacker as a powerful "Fighting God" or an "Ogre". Heihachi personally travels to the site and catches a brief glimpse of the mysterious entity before it disappears. Witnessing Ogre's power first-hand reignites Heihachi's dreams of world conquest, and he resolves to bring the creature under his control. Soon afterward, various martial arts masters around the world begin disappearing, and Heihachi becomes convinced of Ogre's involvement.
Meanwhile, Jun Kazama has been living a quiet life in Yakushima with her son Jin, who was fathered by Kazuya Mishima at some point during the last tournament. Upon Ogre's awakening, Jun begins to sense the creature's malevolent presence slowly drawing closer to her location. Realizing that Ogre is targeting herself and possibly Jin, Jun informs her son about the impending threat and instructs him to go straight to Heihachi if anything should happen to her. Sometime after Jin's fifteenth birthday, Ogre does indeed appear at their home. Jin attempts to defend his mother against Ogre, but the powerful being easily brushes him aside, knocking him unconscious.
When Jin reawakens he finds his home burned, and his mother is missing and most likely dead. Following Jun's final wishes, a vengeful Jin seeks out Heihachi and tells him everything about his parentage and Ogre's attack. The teenager begs his grandfather to train him in the ways of Mishima-style karate in order to become strong enough to face Ogre again, and Heihachi accepts Jin as his newest student.
Four years later, Jin has grown into an impressive fighter and master of the Mishima style. On Jin's nineteenth birthday, "The King of Iron Fist Tournament 3" is announced, and Jin prepares for his upcoming battle against Ogre. However, he is unaware that Heihachi is simply using him and the rest of the competitors as bait to draw out Ogre for his own ends.
Canonical Ending
Eventually the tournament leads to a final confrontation between Jin and Ogre at an ancient temple, but not before Paul Phoenix makes his way to the final match and defeats Ogre himself. Confident that he will be declared the winner of the tournament, Paul leaves the temple; however, Ogre subsequently transforms into an even more powerful "true" version of himself, and the tournament continues. Jin reaches True Ogre and a vicious fight ensues in which Jin finally emerges as the victor, causing the monstrous creature to dissolve in a flash of light.
Moments after True Ogre's defeat, Jin is gunned down by a Tekken Force squad led by Heihachi who, no longer needing Jin, personally fires a final handgun round into his grandson's head. However, Jin is immediately revived by the Devil Gene he inherited from his father Kazuya. In his new Devil form, Jin makes quick work of the soldiers before turning his attention to Heihachi and smashing him head-first through the stone temple's outer wall, causing Heihachi to plunge to the temple grounds far below. Still not finished, Jin jumps out after him and sprouts black feathery wings in mid-air before diving straight down and smashing Heihachi into the ground. He then flies off into the moonlit night, leaving his bewildered grandfather staring after him.
Locations
Tiger Dojo Tokyo
Carnival
Taekwondo Dojo
Martial Arts Dojo
Grassy Land
Laboratory Courtyard
Hong Kong Street
Forest
Skyring
Mexican Temple
Junky Mansion
Beach Island
Soundtrack
The official Tekken 3 soundtrack list:
Track 1 Attract Movie 0:23
Track 2 Attract EMBU 1:02
Track 3 Character Select 0:47
Track 4 Paul Phoenix 3:45
Track 5 Forest Law 3:48
Track 6 Lei Wulong 3:45
Track 7 King 2:43
Track 8 Yoshimitsu 4:04
Track 9 Nina Williams 3:33
Track 10 Hwoarang 3:10
Track 11 Ling Xiaoyu 3:41
Track 12 Eddy Gordo 3:27
Track 13 Jin Kazama 4:02
Track 14 Hidden Characters 3:19
Track 15 Heihachi Mishima 3:39
Track 16 Ogre 3:23
Track 17 Continue? 0:36
Track 18 Game Over 0:06
Track 19 Staff Roll 1:16