Saudi Arabia to sponsor Women's World Cup and tighten ties with Fifa
Saudi Arabia's tourist authority is to sponsor football's Women's World Cup in Australia and New Zealand this year, despite the country's history of oppression of women's rights.
Fifa is expected to confirm that Visit Saudi will join international brands such as Adidas, Coca-Cola and Visa in attaching its name to the 32-team tournament that will kick off in front of an expected 50,000 supporters at Auckland's Eden Park on 20 July.
The deal has been agreed under Fifa's new "commercial partnership structure" dedicated to developing revenues specifically for the women's game, with funds generated from the World Cup going back into the sport. There will be some scepticism over the suitability of the arrangement, owing to repression of women's freedoms in the Gulf state.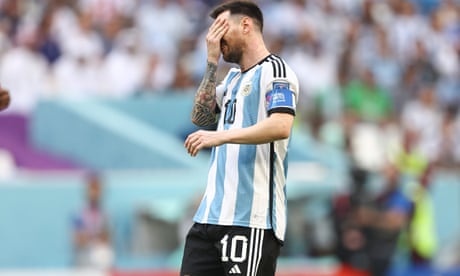 A number of legal changes have improved women's rights in Saudi Arabia in recent years, including the end of a ban on driving and amendments to the oppressive guardianship law that would allow, for the first time, women to apply for official documents such as a passport and to travel abroad independently.
The guardianship law has not been abolished, however, and women still need the consent of a man to get married and obtain certain forms of healthcare. Male guardians can also bring legal action against women for 'disobedience' and being absent from home.
Women's football in the country has seen unequivocal change. A decade ago, Saudi officials were calling for a ban on the hijab in football, which would have prevented observant women from playing the game, and in 2017 women were still banned from attending matches as spectators. Last year, however, Saudi Arabia were supported by many female fans at the men's World Cup in Qatar and the first nationwide league for women in Saudi Arabia was established in 2020.
Saudi hosted and won a four-team tournament this month, which earned the women's national team their first placing on Fifa's rankings.
The Women's World Cup hopes to accelerate the growth of the women's game across the world, with an expanded number of competing nations and a tournament split over two countries for the first time. Fifa announced on Monday it had relocated the opening match in the Australian leg of the tournament to the 83,500-capacity Stadium Australia because of high demand for tickets.skip past newsletter promotion
Sign up to Moving the Goalposts
Free weekly newsletter
Informative, passionate, entertaining. Sign up to our weekly round-up of women's football now.
https://www.google.com/recaptcha/api2/anchor?ar=1&k=6LdzlmsdAAAAALFH63cBVagSFPuuHXQ9OfpIDdMc&co=aHR0cHM6Ly93d3cudGhlZ3VhcmRpYW4uY29tOjQ0Mw..&hl=en&type=image&v=tNAc29ZZrpcOCErva2nr4BS9&theme=light&size=invisible&badge=bottomright&cb=h4x60gcqv3cfPrivacy Notice: Newsletters may contain info about charities, online ads, and content funded by outside parties. For more information see our Privacy Policy. We use Google reCaptcha to protect our website and the Google Privacy Policy and Terms of Service apply.
after newsletter promotion
"Fifa's mission is to organise the biggest and best Women's World Cup in history this year and fans, those who bring colour, passion and atmosphere to stadiums will be such an integral part of the tournament's success," said Fifa's secretary general, Fatma Samoura. "With this in mind, we have taken a decision that will enable over 100,000 fans to attend the opening match day"
What is the difference between Magento 1 and Magento 2 development services?
Magento
Are you an ecommerce store owner or do you develop custom Magento websites? If so, chances are that you've heard of Magento 1 and Magento 2 development services. But what exactly is the difference between the two? Understanding this key distinction can help ensure your online store is optimized to its fullest potential and provide users with an exceptional experience when shopping on your website. In this blog post, we will explain what separates these two solutions from each other and how they might benefit your business.
Overview of the difference between Magento 1 and Magento 2 development services
Magento is one of the most popular e-commerce platforms available today, and its development services have evolved with the release of Magento 2. While both versions offer a range of features and functionalities, there are some notable differences between the two. Magento 2 comes with an improved performance, a revamped checkout process, a simplified admin panel, and a better page load speed. There are also additional features such as enhanced security, responsive design, and streamlined extension development. However, migrating from Magento 1 to Magento 2 requires careful planning and execution. It is important to understand these differences and choose the right Magento development services to ensure that your e-commerce store stays ahead of the game.
Advantages of Magento 2 over Magento 1
If you're considering switching to Magento 2 for your e-commerce platform, you're about to enjoy a host of advantages over Magento 1. One of the most significant benefits is the improved performance and scalability, allowing your website to handle more traffic and transactions than ever before. Additionally, Magento 2 offers a streamlined checkout process, which can increase your site's conversion rates and reduce cart abandonment. And with the latest security patches and updates, you can be confident your site is safe and secure for your customers. At our magento development services, we recommend making the switch to Magento 2 to take full advantage of these benefits and provide your customers with the best possible shopping experience.
How to choose between the two services for your online business
When it comes to running an online business, choosing the right services is crucial for success. One popular choice for e-commerce platforms is Magento Development, which offers advanced functionality and flexibility. However, with so many options available, it can be challenging to choose between different service providers. It's essential to consider factors such as pricing, customization options, and customer support. Doing thorough research and seeking out recommendations from other online business owners can help you make an informed decision. Ultimately, selecting the right service can make all the difference in streamlining your online business and boosting your revenue.
Top features included with Magento 2 development services
Magento 2 development services come with a range of top-notch features that businesses can leverage to boost their online presence and sales. One of the most valuable aspects of Magento 2 development services is the ability to create customized e-commerce stores that meet the unique needs of every business. Other top features included with Magento 2 development services include improved site performance, streamlined checkout process, advanced SEO capabilities, and responsive design. With these features and more, businesses can take advantage of Magento 2 development services to enhance their online storefront and grow their customer base.
Tips for successful implementation of both versions of the platform
Successful implementation of both versions of a platform can be a daunting task, but understanding the tips and tricks can make the process much smoother. For those looking to implement both versions of the Magento platform, there are a few key things to keep in mind. The first of these is to utilize the services of a qualified Magento development team. With the right experts by your side, both the Community and Enterprise versions can be implemented without a hitch. Additionally, taking the time to properly plan the implementation process before diving in can help ensure success. So if you're ready to make the most of the Magento development services available, start by following these tips and you'll be on your way to a successful implementation in no time.
Benefits of using a professional ecommerce developer for your project
In today's fast-paced digital world, having a professional ecommerce website is essential for businesses to succeed. However, building an ecommerce website requires a great deal of technical expertise and knowledge. This is where a professional ecommerce developer can make a significant difference. By hiring an experienced developer, not only can you save time and effort, but you will also receive a website with all the latest features and technologies. Furthermore, a professional developer can help you optimize your website's speed, design, and functionality to ensure that it is user-friendly and visually appealing, resulting in increased conversions and sales. In short, working with a professional ecommerce developer can lead to a successful and profitable online business in today's competitive market.
Conclusion
In conclusion, Magento 2 is an ideal ecommerce platform that allows you to run a full-fledged online store in a more advanced way. It is the perfect upgrade from the traditional Magento 1 model and offers plenty of benefits and features. From customizing your website to integrating new features, everything comes with ease when using Magento 2. However, it is important to consider each of the options carefully before choosing between Magento 1 and Magento 2 development services. Consulting with a professional ecommerce developer can help you make an informed decision for your online business and maximize your potential success. Additionally, knowing tips & best practices for implementing each version is key for long-term success. Choosing Magento 2 for developing your website will allow you to provide customers with a user-friendly experience backed by excellent functionality and support.
Trader Joe's: A Unique Grocery Shopping Experience
Discover the unparalleled shopping experience at Trader Joe's, a renowned grocery store chain offering a wide range of high-quality products at affordable prices. Explore the diverse selection, innovative offerings, and friendly atmosphere that make Trader Joe's a favorite destination for food enthusiasts.
Introduction: Welcome to Trader Joe's
Trader Joe's has revolutionized the grocery shopping industry with its distinctive approach to retail. With a commitment to providing unique and high-quality products, Trader Joe's has garnered a loyal following of customers who are eager to explore the ever-changing assortment of items on their shelves. In this article, we will delve into the world of Trader Joe's and explore the reasons why it stands out from the competition.
Trader Joe's: A Shopper's Paradise
A Haven for Food Enthusiasts
Trader Joe's is more than just a grocery store; it's a paradise for food enthusiasts. With an extensive selection of gourmet and specialty items sourced from around the world, Trader Joe's caters to the discerning palate. From unique snacks and appetizers to artisanal cheeses and decadent desserts, there's always something new and exciting to discover at Trader Joe's.
Unbeatable Prices and Value
One of the hallmarks of Trader Joe's is its commitment to providing exceptional value to its customers. While the store offers a wide range of high-quality products, it manages to keep its prices affordable. This combination of quality and value is what sets Trader Joe's apart from its competitors, making it an attractive option for budget-conscious shoppers.
A Neighborhood Vibe
Step into any Trader Joe's, and you'll immediately notice the warm and welcoming atmosphere. With friendly staff members who are always ready to assist you, shopping at Trader Joe's feels like a visit to your neighborhood store. The company prides itself on fostering a sense of community and creating an enjoyable shopping experience for its customers.
Exploring Trader Joe's Selection
A Cornucopia of Fresh Produce
Trader Joe's offers an impressive selection of fresh fruits and vegetables, sourced from trusted suppliers. Whether you're in search of everyday staples or exotic produce, Trader Joe's has you covered. From crisp apples to vibrant heirloom tomatoes, their produce section boasts a colorful array of options that will inspire any home cook.
Delightful Dairy and Cheese Selection
Cheese lovers rejoice! Trader Joe's is renowned for its diverse selection of cheeses from around the world. From creamy Brie to tangy blue cheese, you'll find a range of flavors and textures to suit your taste buds. Pair your favorite cheese with their assortment of crackers and you're in for a treat.
International Flavors Galore
At Trader Joe's, you can embark on a global culinary adventure without leaving the store. Their shelves are stocked with a wide variety of international ingredients and products, allowing you to explore different cuisines and expand your culinary horizons. Whether you're in the mood for Thai curry, Italian pasta, or Indian spices, Trader Joe's has everything you need to create authentic and flavorful dishes.
Unique and Innovative Offerings
One of the reasons why Trader Joe's is so beloved is its constant introduction of unique and innovative products. The store takes pride in being a trendsetter in the grocery industry, and customers eagerly anticipate the arrival of new items. From seasonal treats to unexpected flavor combinations, Trader Joe's never fails to surprise and delight its customers.
Frequently Asked Questions (FAQs)
1. What makes Trader Joe's different from other grocery stores?
Trader Joe's stands out from other grocery stores due to its unique selection of products, unbeatable prices, and friendly atmosphere. The store offers an exciting array of gourmet and specialty items, all at affordable prices,making it a destination for food enthusiasts. Additionally, Trader Joe's prides itself on creating a neighborhood vibe with its welcoming staff and sense of community.
2. Does Trader Joe's offer organic and healthy options?
Yes, Trader Joe's is known for its commitment to offering a wide range of organic and healthy options. The store carries a variety of organic produce, as well as organic dairy products, meats, and pantry staples. In addition, Trader Joe's has a selection of gluten-free, vegan, and vegetarian products to cater to different dietary preferences and needs.
3. Are Trader Joe's products affordable compared to other grocery stores?
Yes, Trader Joe's is renowned for its affordability. While providing high-quality products, Trader Joe's manages to keep its prices competitive. This combination of quality and value makes it an attractive choice for shoppers looking to get the most out of their budget.
4. Can I find international ingredients and spices at Trader Joe's?
Absolutely! Trader Joe's takes pride in offering a diverse range of international ingredients and spices. Whether you're looking for exotic spices for a specific recipe or unique international snacks, Trader Joe's has a selection that will satisfy your culinary cravings.
5. Are there any Trader Joe's branded products?
Yes, Trader Joe's has its own line of branded products. These Trader Joe's branded items are carefully curated and developed to meet the company's high standards for quality and taste. From snacks and pantry staples to frozen meals and beverages, you'll find a variety of Trader Joe's branded products throughout the store.
6. Does Trader Joe's have a return policy?
Yes, Trader Joe's has a customer-friendly return policy. If you're not satisfied with a product you've purchased, you can return it to the store with a receipt for a full refund. Trader Joe's aims to ensure customer satisfaction and stands behind the quality of their products.
Conclusion: A Shopping Experience Like No Other
Trader Joe's offers a shopping experience that is truly unique. With its diverse and high-quality product selection, unbeatable prices, and friendly atmosphere, it has become a favorite destination for food enthusiasts and budget-conscious shoppers alike. Whether you're searching for everyday essentials, international ingredients, or innovative snacks, Trader Joe's has something to offer. So, the next time you're in search of a grocery store adventure, don't miss out on the vibrant and exciting world of Trader Joe's.
Rebbe's Dollar distribution
Uncover the extraordinary story of the Rebbe's Dollar distribution, a powerful tradition that has transformed lives and inspired acts of kindness across the globe.
The Rebbe's one-dollar bill, a symbol of charity and compassion, continues to embody the spiritual legacy of Rabbi Menachem Mendel Schneerson, inspiring countless individuals to embrace a life of giving and kindness.
Every Sunday, people from all walks of life – Jews and non-Jews alike – would line up outside the Rebbe's residence at 770 Eastern Parkway in Brooklyn, New York, eager to receive a dollar bill and a blessing from the Rebbe.

It was a testament to the universal nature of the Rebbe's message of love, kindness, and the power of good deeds.

The Rebbe would hand out dollar bills to each individual, instructing them to donate the money to a charity of their choice. Through this small act of giving, the Rebbe instilled the value of charity and the potential of a single dollar to create positive change.