Top 10 Technology Blogs for Latest Tech Updates, News & Information!
Looking for tech blogs to keep up with the latest technology trends? No worries! Your search ends here! Read on…
People from different walks of life are intrigued by the way technology is progressing at a profuse rate, shaping our lives into the digital world!
With new tech trends being introduced every quarter and information becoming obsolete as technology evolves, it's now an obligation to stay relevant and learn about the newest technologies, digital industry, social media, and the web in general!
The question is how?
Well, millions of tech enthusiasts, as well as businesses from all sectors, befriend technology blogs that bring the latest news regarding technology updates faster than any other source.
These technology blogs not only embrace high-tech discoveries but also help readers in staying consistently ahead of the curve by determining modern-day tech trends!
Therefore, we have rounded up a list of the 10 best technology blogs, that would bring you the latest information from across the world.
Following these latest technology blogs will give you a steady stream of great ideas regarding technology. Whether it's the news or information about the latest gadgets in the market, these blogs will bring you everything from the modern tech world!
Let's dig in!
Stay in the Present with these 10 Technology Blogs:
Professionals in almost every industry have trouble keeping up to date with changing tech trends. So, the best and the only way to stay relevant with technology is through the information available online!
So, if you want intuitive articles along with insights from the tech industry, you need to read blogs that are consistently updated by people that know about the trends, and market, and care about giving quality content to their readers.
Let's take a look at some of the best technology blogs out there!!
1. wired
Founder: Louis Rossetto, Jane Metcalfe
Year Started: 1993
Domain Authority: 94 ⋅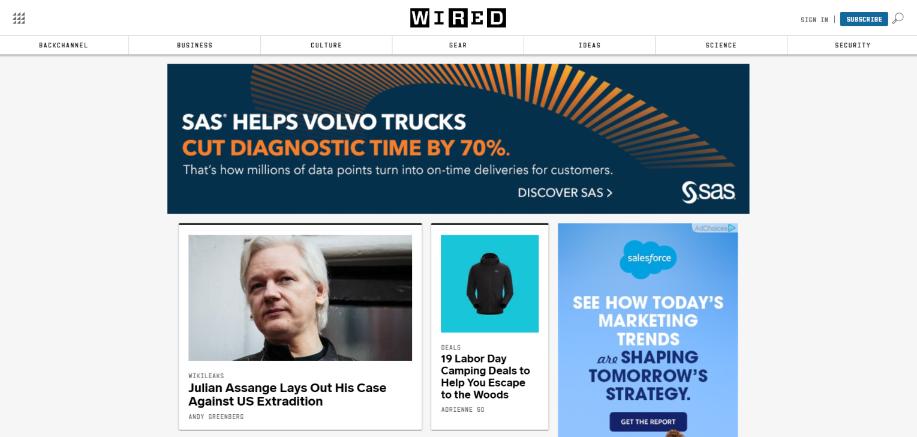 Wired is a massively popular publication, good at capturing real insights into the tech world, no stranger to topics like technology, entertainment, science, culture, politics, and social media. Informed and comprehensive, Wired is basically the perfect tech blog to follow.

This unique blog is dedicated to modern life and the technology industry and answers every question related to tech trends, gadget reviews, and the latest updates.
Wired is ranked as one of the best tech blogs for professionals in every industry and delivers great ideas for presenting the most relevant topics to your audience.
Read more: The Best Tech Websites to Follow in 2022
2. TechCrunch
Founder: Michael Arrington, Keith Teare
Year Started: 2005
Domain Authority: 94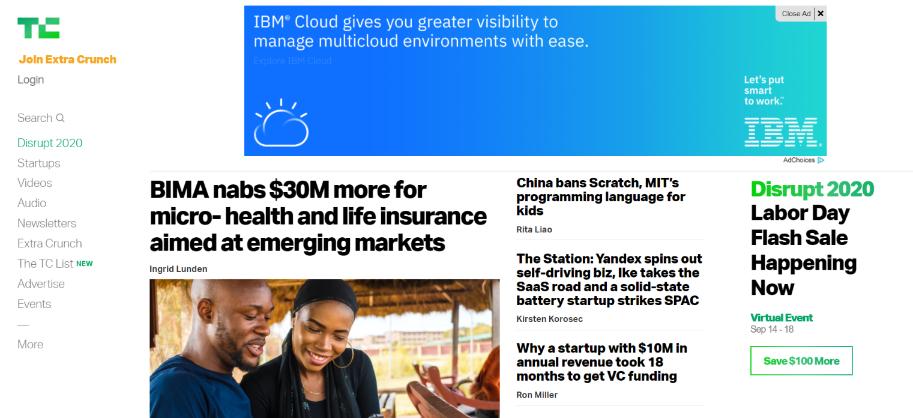 Invest yourself in the business verse of the tech world with one of the most popular technology blogs thriving this year- TechCrunch.
The blog publishes content on businesses related to tech, analysis of emerging trends in tech, technology news, and listings of new tech products in the market. It is one of the first publications to report broadly on tech startups and funding rounds.
TechCrunch offers knowledge about new gizmos and business-related apps. It is like a reservoir of information on Internet companies & startups around the world.
3. Recode
Founder: Kara Swisher
Year Started: 2014
Domain Authority: 93

Currently, owned by VOX media, Recode gives the most updated independent technology news, analysis trends, and reviews from the most respected and informed journalists as well as bloggers in media and technology.
Recode is uncovering and explaining how our tech world is changing by focusing on the businesses of Silicon Valley.
Its founder Kara Swisher has all the connections to the latest tech tips and products, making it a robust technology blog to read!
4. Mashable
Founder: Pete Cashmoreg
Year Started: 2005
Domain Authority: 93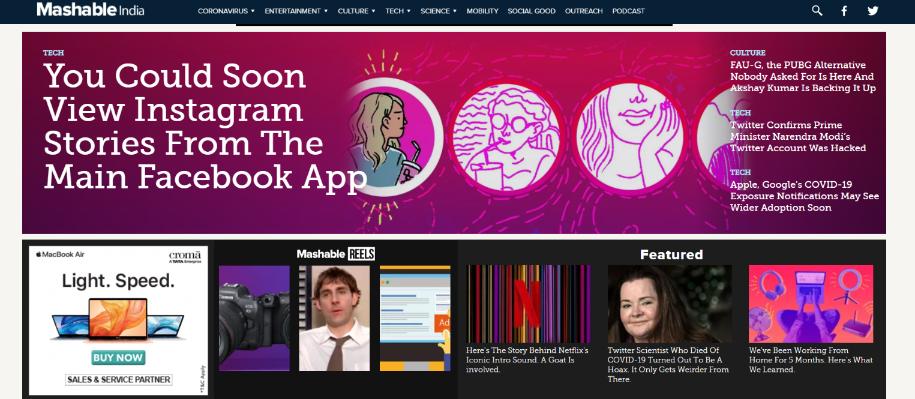 Mashable is a world-renowned, entertainment, and multi-platform media channel.
Powered by its own proprietary technology, this tech blog is the go-to source for tech, digital culture, and entertainment content for its influential and dedicated global audience!
It is one of the most influential blogs on technology on the internet today!
Mashable provides information to those who wish to catch up on all most everything happening around the tech world including movies, travel, finance, and, of course, gadgets.
5. CNET
Founder: Halsey Minor, Shelby Bonnie
Year Started: 1994
Domain Authority: 93

Following the latest trends in consumer technology with steadfast precision, CNET is one of the top technology blogs you can find on this list.
CNET stays ahead of the curve by spreading its hands on all sorts of incredible tech products, and trends and offering unbiased reviews.
It offers trusty guides, instructional videos, and up-to-the-minute news on everything from technology to sports. Especially, when considering buying a new gadget, CNET should be your first stop to provide a genuine reviews, and pricing, making it one of the best technology blogs to check out.
6.The verage
Founder: Joshua Topolsky, Jim Bankoff, Marty Moe
Year Started: 2011
Domain Authority: 92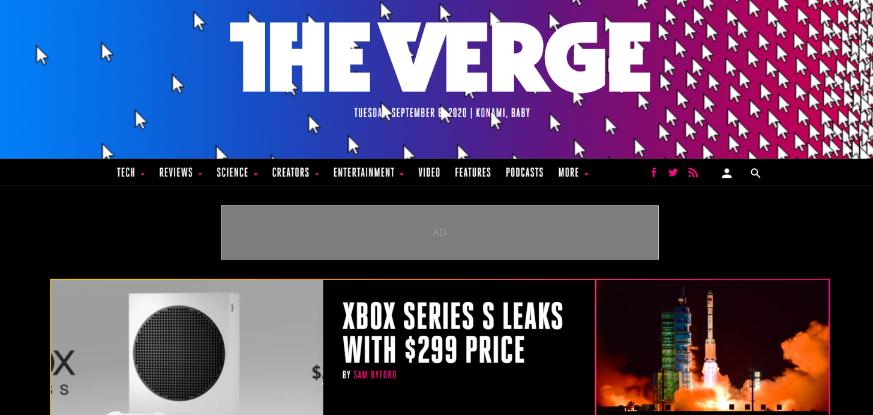 Another highly engaging tech blog operated by VOX Media publishing news, guidebooks, feature stories, product reviews, and podcasts is The Verge!
It offers substantial coverage and no shortage of personalized perspectives. Accordingly, their gadget reviews help make or break the future of technology itself.
More than a tech publication, The Verge is arguably the most knowledge-equipped website on modern-day trends and products. This legendary technology blog seems to get its hands on literally every tech product, frequently before that product is even released or completed.
Read more: Top Technology Trends to Watch for in 2022
7. Venturebeat
Founder: Matt Marshall
Year Started: 2006
Domain Authority: 92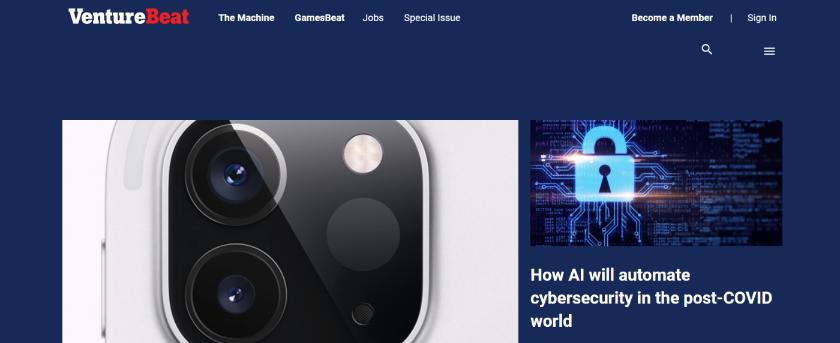 VentureBeat is one of the leading tech blogs for transformative tech events and news.
It reports breaking news on comprehensive content about prime tech businesses along with incisive coverage of the gaming industry. The blog comprises a series of tech-related articles, newsletters, general news, and businesses.
You can read about gaming, transformative technology, AI, AR/VR to 5G, and much more. VentureBeat is also known for organizing big events formed around innovative technology and big ideas.
8. Slashdot
Founder: Rob Malda, Jeff Bates
Year Started: 1997
Domain Authority: 90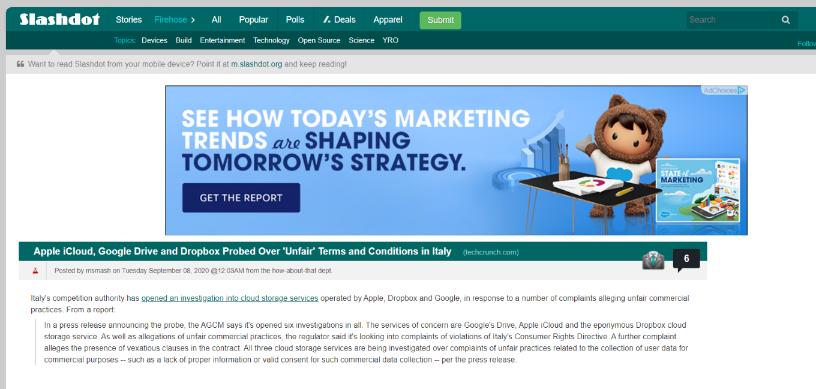 Slashdot owns that old-school early 00's vibe with its upvote features and summary resources.
This technology blog is dense on open source, security, gadget reviews, product management, apps, and other similar trends.
It originally presented itself as "News for Nerds. Stuff that Matters". Slashdot also features news stories on technology, science, and politics. The classic techy feel without the advertising distractions of the other big publications is what makes Slashdot a must-visit blog.
9. Gizmodo
Founder: Pete Rojas
Year Started: 2001
Domain Authority: 90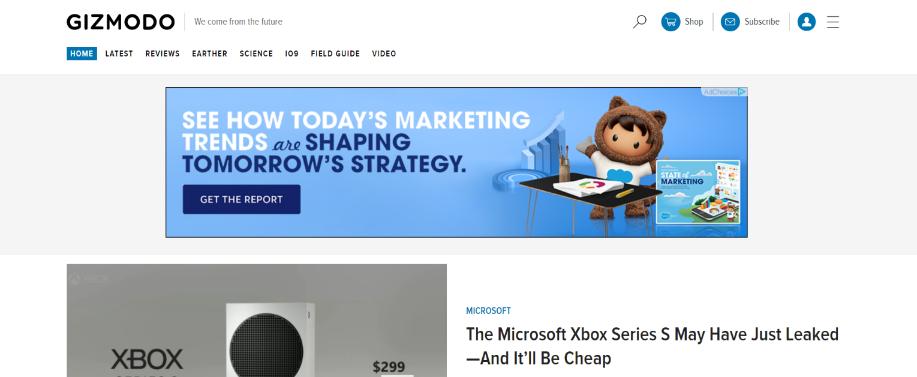 Gizmodo is the best online tech portal to follow all the latest news related to the gadget. Here, you can read guides and watch tutorials that explain all about the fresh gadgets in the market.
Besides, this technology blog always offers the newest information about innovative technologies.
The popular tech blog and news site keep its fingers on the world of updates for its readers. Worth noting is that, like most technology blogs, Gizmodo holds a progressive edge. Hence, anyone and everyone are welcome to pay a visit to this site!
10. Engadget
Founder: Pete Rojas
Year Started: 2004
Domain Authority: 90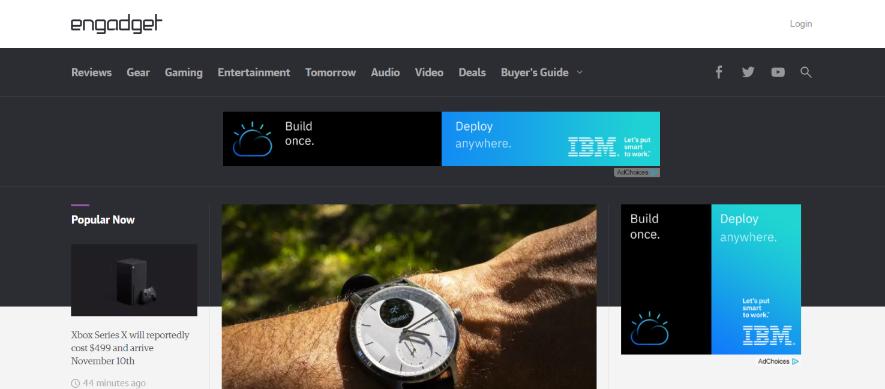 Engadget has expanded from a humble news organization into a leading global technology blog with millions of visitors onboard!
Readers come to the blog for the latest reviews and news in entertainment, gaming, and tech, and leave both satisfied & informed. This tech blog can also be used to dig into the archives of some of the best, early tech publications.
Engadget covers any information relating to the latest hardware and gadgets, video games, and NASA tech.
The website posts trusted in-depth updates on the latest releases, so you'll always know what's best in the market. With a separate video section walking you through the features and how it looks, Engadget is a great blog for tech junkies!
Having Your Finger on the Pulse!
As tech is drastically changing with every quarter, it becomes quite challenging to seek information.
Therefore, taking a glance and following a well-versed tech blog with the right quality of content can save you tons of extra effort in keeping yourself up to the minute!
Also, with a lot of tech blogs coming into the milieu every day, these 10 technology blogs listed above represent the very best of the modern tech world, and they are worth reading to learn and update ourselves about the latest tips and trends to stay ahead.
Further reads:
13 Programming Blogs and Websites for Coding Lovers!

DOCUMENT, SALES
Business Requirements Document (BRD): What is it & How to Write? (Steps Included)
COLLABORATION, HOME
4 Important Tips for Having a Vacation Abroad
Are you planning to go abroad but still don't know what to prepare? People dream of going abroad, especially to countries like America and Europe. If this is your first time going abroad, you should check the following tips!
Prepare All Important Documents
The first thing you need to do is prepare important documents. For example, passports, ID cards, visas, and international driving licenses if you are going to drive abroad. Make sure you know whether the country you are going to visit is visa-free or not. For Southeast Asian countries, the Maldives and Turkey are visa-free, so you only have to have a passport. But a visa is still needed if you want to go to South Korea, Europe, or America. Make sure to scan your document and save it in the cloud like Google Drive or iCloud. Oh, yes, remember to check your vaccination status. Because every country needs your health information.
Make Itineraries
Itinerary is important for those who want to travel abroad. The reason is holidays abroad cost a lot of money, so when you can, take advantage of it with a well-planned schedule. Research in detail the tourist destinations you want to visit. For example, what is unique in it, ticket prices, transportation to get there, to the distance from the inn you're staying. Remember to include places to eat that you want to try. Make sure the place to eat is according to your preferences, such as halal or free of certain food allergies.
Book Tickets in Advance
When you know how long you will be on vacation with the itinerary that has been prepared, it's time to book plane tickets and lodging. Find cheap tickets by:
Using promos and discounts on travel agent applications.
Comparing which price is lower and what kind of facilities you will get.
Choosing accommodation that fits your budget but is still comfortable.
Oh yes, also remember to check how the pandemic situation is in the country you are going to visit. Do you have to quarantine or not? Because it will affect your itinerary and accommodation. Due to the pandemic conditions that have not fully recovered, check whether there is still Indonesia quarantine after returning from vacation.
Exchange Money and Check Your ATM Cards
Exchange your currency into the destination country's currency, for example, yen, euros, dollars, won, and others. But remember, don't carry too much cash because it's also prone to theft, besides being wasteful. For the rest, you can do cashless transactions. Check your bank's ATM card to see if it has Visa, MasterCard, or Cirrus logos. This row of stamps indicates that your bank is working with banks abroad. Or you can also use a credit card to make your transaction easier.
Down 43%, Is This Tech Stock Worth Buying Right Now?
Skyworks Solutions (NASDAQ: SWKS) announced its fiscal 2022 fourth-quarter results (for the three months ended September 30) on November 3, and the supplier Apple's stock price has risen 11% since then.
Skyworks beat expectations and showed solid growth at a time when smartphone sales were declining, but forecasts show the chipmaker is about to hit a bump. With that said, let's take a closer look at the latest results from the chipmaker. Let's take a closer look at whether the stock can sustain new momentum after losing 43% of its value in 2022.
Skyworks solutions deliver reliable results for non-mobile businesses
Skyworks' fourth-quarter revenue increased 7% year-over-year to a record $1.4 billion. The company also reported non-GAAP (adjusted) earnings of $3.02 per share, up 15% year-over-year. Skyworks easily justified analyst estimates of $2.91 per share. For the year, the company's revenue increased 7% to $5.5 billion and earnings rose similarly to $11.24 per share.
The strong growth of chipmakers in the fourth quarter was the result of successful diversification into new markets such as Internet of Things (IoT) and automotive, as well as relationships with major smartphone original equipment manufacturers (OEMs). Yes, it helped make up for it. Weakness in the smartphone market. space. However, it was the non-mobile business that put a lot of effort into Skyworks last quarter.
As CFO Chris Sennesael noted in the report, the company generated $500 million in revenue from broad market segments (counting chip sales for non-mobile applications like IoT), up 30% from the previous year. Last earnings conference call. Broad market companies contributed 36% of Skyworks' revenue last quarter, up from 29% in the same period last year.
It's also worth noting that Skyworks earned $2 billion in revenue from this segment for the entire fiscal year. That's almost 43% more than the $1.4 billion in revenue last fiscal year. The good news is that the company's business in a wide range of markets can maintain its momentum. This is because, as Skyworks showed in its earnings report, it is attracting new customers in high-growth niches like IoT.
"In IoT, we continue to win new customers and expand our content. We have partnered with Vodafone to launch the UK's first WiFi 6E platform. We have launched a solution for Fi 6 hotspots."
Skyworks also enables the deployment of O-RAN (Open Radio Access Network) and delivers record quarterly results in the high-growth automotive business niche. For example, the O-RAN market is expected to grow at an annual rate of 42% until 2030. Meanwhile, according to Mordor Intelligence, the demand for connected cars will grow by 19% per year until 2027.
These catalysts explain why Skyworks expects its broad commercial segment of the market "to be a major driver in FY23 and beyond."
The mobile business was not in its best last quarter
Skyworks' mobile business generated approximately $907 million in revenue last quarter (this is total revenue minus $500 million from the broader market business). By comparison, 71% of Skyworks' $1.31 billion in revenue last year came from its mobile business, worth nearly $931 million.
Thus, the company's mobile business, which generates most of its revenue, declined year-over-year in the most recent quarter. This is not surprising given that smartphone sales have been declining for the past five quarters. Skyworks considers Apple its biggest client, with the smartphone giant generating 58% of its revenue last year.
Last quarter, Apple shipped 48.5 million smartphones, 6.4% more than last year. However, the overall smartphone market was down 9% year-over-year. And now things could get even worse for Skyworks.
All of this explains why Skyworks management is targeting a sharp drop in sales and profits. The chipmaker expects revenue of $1.3 billion to $1.35 billion and adjusted earnings of $2.59 per share in the first quarter of fiscal 2023. These numbers show double-digit declines in both revenue and earnings compared to the last year.
Tech Shares May Weigh On Taiwan Stock Market
(RTTNews) – The Taiwanese stock market fell nearly 230 points (1.7%) on Tuesday after falling for two days. The Taiwan Stock Exchange is currently just above the 14,700 plateau, but selling pressure is likely to resume on Wednesday.
The global outlook for Asian markets is mixed, with little change ahead of major economic events that could affect the interest rate outlook. European and US markets were mixed and flat, followed by Asian equities.
The Tokyo Stock Exchange closed sharply higher on Tuesday after gains in financial, technology and cement stocks.
The index closed at 14,709.64, up 152.77 points (1.05%) after trading between 14,449.05 and 14,716.58.
Among assets, Cathay Financial was up 3.45%, Mega Financial was up 1.78%, CTBC Financial was up 2.93%, Fubon Financial was up 2.94%, First Financial was up 1.35%, E Sun Financial rose 1.66%, Taiwanese semiconductor company rose 1.35% and United Microelectronics rose 1.35%. Corporation and Catcher Technology rose 0.56%, Largan Precision shed 0.22%, MediaTek rose 1.42%, Delta Electronics rose 1.71%, Novatek Microelectronics rose 0.51%, China Steel rose 0.51%. 2.87%, Formosa Plastics shed 0.22%, Nan Ya Plastics rose 0.92%, Asia cement rose 1.48%, Taiwanese cement rose 1.67%, and Hon Hai Precision remained unchanged.
Wall Street's lead indicates a slight negative bias as the leading average rose, then fell in the middle of the session, but then rose to end the mix almost unchanged.
The Dow rose 3.07 points (0.01%) to close at 33,852.53, while the NASDAQ fell 65.72 points (0.59%) to close at 10,983.78, and The S&P 500 fell 6.31 points (0.16%) to 3957.63.
Volatile trading on Wall Street comes amid continued uncertainty about the situation in China following widespread outcry over the country's Covid restrictions.
Traders may also have been reluctant to make any significant moves ahead of comments from Federal Reserve Chairman Jerome Powell today that could provide further clues about the rate outlook. Unemployment data continues to be released on Friday.
In terms of economic news, the Conference Board released a report showing a moderate decline in US consumer confidence in November.
Crude oil futures ended higher on Tuesday, extending gains from the previous session on hopes that OPEC could cut production to support prices later this week. West Texas intermediate oil futures rose $0.96, or 1.2%, to $78.20 a barrel in January.