North Korean Hackers Targeting Small and Midsize Businesses with H0lyGh0st Ransomware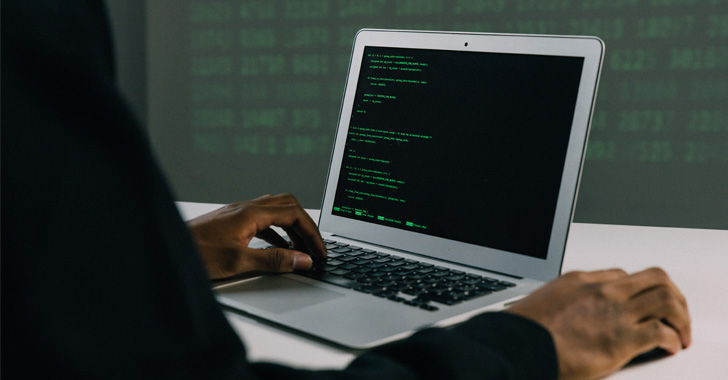 An emerging threat cluster originating from North Korea has been linked to developing and using ransomware in cyberattacks targeting small businesses since September 2021.
The group, which calls itself H0lyGh0st after the ransomware payload of the same name, is being tracked by the Microsoft Threat Intelligence Center under the moniker DEV-0530, a designation assigned for unknown, emerging, or a developing group of threat activity.
Targeted entities primarily include small-to-midsize businesses such as manufacturing organizations, banks, schools, and event and meeting planning companies.
"Along with their H0lyGh0st payload, DEV-0530 maintains an .onion site that the group uses to interact with their victims," the researchers said in a Thursday analysis.
"The group's standard methodology is to encrypt all files on the target device and use the file extension .h0lyenc, send the victim a sample of the files as proof, and then demand payment in Bitcoin in exchange for restoring access to the files."
Ransom amounts demanded by DEV-0530 range anywhere between 1.2 and 5 bitcoins, although an analysis of the attacker's cryptocurrency wallet shows no successful ransom payments from its victims as of early July 2022.
DEV-0530 is believed to have connections with another North Korean-based group known as Plutonium (aka DarkSeoul or Andariel), a sub-group operating under the Lazarus umbrella (aka Zinc or Hidden Cobra).
The illicit scheme adopted by the threat actor is also known to take a leaf from the ransomware playbook, leveraging extortion tactics to apply pressure on victims into paying up or risk getting their information published on social media.
DEV-0530's dark web portal claims it aims to "close the gap between the rich and poor" and "help the poor and starving people," in a tactic that mirrors another ransomware family called GoodWill that compels victims into donating to social causes and providing financial assistance to people in need.
The technical breadcrumbs that tie the group to Andariel stem from overlaps in the infrastructure set as well as based on communications between email accounts controlled by the two attacker collectives, with DEV-0530 activity consistently observed during Korea Standard Time (UTC+09:00).
"Despite these similarities, differences in operational tempo, targeting, and tradecraft suggest DEV-0530 and Plutonium are distinct groups," the researchers pointed out.
In a sign that suggests active development, four different variants of the H0lyGh0st ransomware were churned out between June 2021 and May 2022 to target Windows systems: BTLC_C.exe, HolyRS.exe, HolyLock.exe, and BLTC.exe.
While BTLC_C.exe (dubbed SiennaPurple) is written in C++, the other three versions (codenamed SiennaBlue) are programmed in Go, suggesting an attempt on the part of the adversary to develop cross-platform malware.
The newer strains also come with improvements to their core functionality, including string obfuscation and abilities to delete scheduled tasks and remove themselves from the infected machines.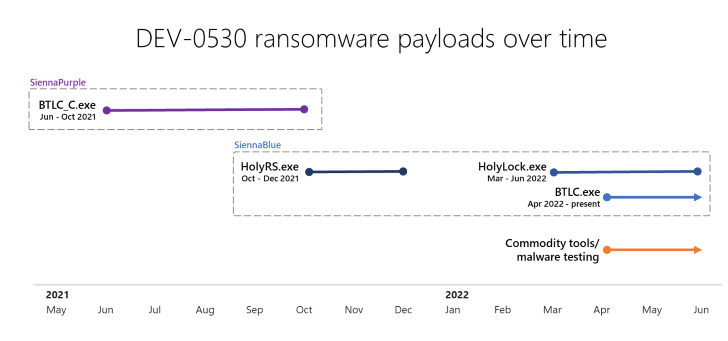 The intrusions are said to have been facilitated through the exploitation of unpatched vulnerabilities in public-facing web applications and content management systems (e.g., CVE-2022-26352), leveraging the purchase to drop the ransomware payloads and exfiltrate sensitive data prior to encrypting the files.
The findings come a week after the U.S. cybersecurity and intelligence agencies warned about the use of Maui ransomware by North Korean government-backed hackers to target the healthcare sector since at least May 2021.
The expansion from financial heists to ransomware is being viewed as yet another tactic sponsored by the North Korean government to offset losses from sanctions, natural disasters, and other economic setbacks.
But given the narrow set of victims than is typically associated with state-sponsored activity against cryptocurrency organizations, Microsoft theorized the attacks could be a side-hustle for the threat actors involved.
"It is equally possible that the North Korean government is not enabling or supporting these ransomware attacks," the researchers said. "Individuals with ties to Plutonium infrastructure and tools could be moonlighting for personal gain. This moonlighting theory might explain the often-random selection of victims targeted by DEV-0530."
The ransomware threat evolves in a post-Conti world
The development also comes as the ransomware landscape is evolving with existing and new ransomware groups, namely LockBit, Hive, Lilith, RedAlert (aka N13V), and 0mega, even as the Conti gang formally shuttered its operations in response to a massive leak of its internal chats.
Adding fuel to the fire, LockBit's improved successor also comes with a brand new data leak site that allows any actor to purchase data plundered from victims, not to mention incorporating a search feature that makes it easier to surface sensitive information.
Other ransomware families have also incorporated similar capabilities in an attempt to create searchable databases of information stolen during attacks. Notable among this list are PYSA, BlackCat (aka ALPHV), and the Conti offshoot known as Karakurt, according to a report from Bleeping Computer.
Based on statistics gathered by Digital Shadows, 705 organizations were named in ransomware data leak websites in the second quarter of 2022, marking a 21.1% increase from Q1 2022. The top ransomware families during the period consisted of LockBit, Conti, BlackCat, Black Basta, and Vice Society.
Introduction
If you're reading this article, chances are you're wondering what gc4ge400 is. Perhaps you've come across this term while doing research on SEO or digital marketing, and you're curious to learn more. In this article, we'll delve into what gc4ge400 is, how it relates to SEO, and why it's important for businesses to understand.
Understanding gc4ge400
GC4GE400 is a code that is used by Google to track the relevance of a website's content. This code is used in the algorithm that Google uses to rank websites in search engine results pages (SERPs). In other words, it's a way for Google to determine how relevant a website's content is to a user's search query.
How gc4ge400 Works
GC4GE400 is a complex algorithm that takes into account a number of different factors when ranking websites in SERPs. Some of these factors include:
The relevance of the content on the website to the user's search query
The quality of the content on the website
The number and quality of external links pointing to the website
The speed and performance of the website
The overall user experience of the website
Google uses these factors (and many more) to determine how relevant a website's content is to a user's search query. The higher the relevance, the higher the website will rank in SERPs.
Why gc4ge400 is Important for SEO
GC4GE400 is incredibly important for SEO because it determines how well a website will rank in search engine results pages. If a website's content is not relevant to a user's search query, it will not rank well in SERPs, and therefore will not receive much organic traffic.
By understanding how gc4ge400 works, businesses can create content that is more relevant to their target audience and improve their rankings in SERPs. This can lead to more organic traffic, more leads, and ultimately more revenue.
Best Practices for gc4ge400
Now that you understand what gc4ge400 is and how it works, let's take a look at some best practices for optimizing your website for this algorithm:
1. Conduct Keyword Research
One of the best ways to optimize your website for gc4ge400 is to conduct thorough keyword research. By identifying the keywords and phrases that your target audience is searching for, you can create content that is more relevant to their needs.
2. Create High-Quality Content
Another important factor to consider when optimizing your website for gc4ge400 is the quality of your content. Google rewards websites that have high-quality, informative, and engaging content that is relevant to a user's search query.
3. Focus on User Experience
In addition to creating high-quality content, it's important to focus on the overall user experience of your website. This includes factors like website speed, mobile responsiveness, and ease of navigation.
4. Build Quality External Links
Building high-quality external links to your website is another important factor to consider when optimizing for gc4ge400. By building links from reputable websites in your industry, you can signal to Google that your website is a valuable resource for users.
Conclusion
In conclusion, gc4ge400 is a complex algorithm that is used by Google to determine the relevance of a website's content to a user's search query. By understanding how this algorithm works and implementing best practices for optimization, businesses can improve their rankings in search engine results pages and drive more organic traffic to their website.
Austin Garage Door Repair: Why Choose SupremeGarageDoorTX.com?
Your garage door is an essential part of your home, providing security, convenience, and curb appeal. However, like any mechanical device, garage doors can break down, wear out, and require repair or replacement. When it comes to garage door repair in Austin, Texas, SupremeGarageDoorTX.com is a top choice for homeowners and businesses alike. Here's why:
Expertise and Experience
At SupremeGarageDoorTX.com, we have years of experience repairing and installing garage doors of all types and brands. Our technicians are highly trained and certified, with the knowledge and skills to diagnose and fix any garage door problem quickly and efficiently. Whether you have a broken spring, a damaged panel, or a malfunctioning opener, we can get your door back in working order in no time.
Quality Products and Parts
We only use high-quality garage door products and parts from trusted manufacturers, ensuring that your repairs will last for years to come. We offer a wide selection of doors, openers, and accessories to fit your needs and budget, from classic designs to modern styles. Our products are backed by warranties and guarantees, giving you peace of mind and protection.
24/7 Emergency Services
Garage door emergencies can happen anytime, day or night, and we understand the importance of prompt and reliable service. That's why we offer 24/7 emergency repair services, so you can get your door fixed as soon as possible. Our technicians are on call and ready to assist you, no matter the time or day.
Competitive Pricing
We believe that garage door repair and installation should be affordable and accessible to everyone. That's why we offer competitive pricing and free estimates for all our services. We also offer special discounts and promotions throughout the year, so you can save even more on your garage door needs.
Excellent Customer Service
At SupremeGarageDoorTX.com, we are committed to providing exceptional customer service and satisfaction. From your initial consultation to the final installation, we will work closely with you to ensure that your needs are met and your expectations are exceeded. We are always available to answer your questions, address your concerns, and provide advice and recommendations.
In conclusion, if you are looking for reliable, affordable, and quality garage door repair in Austin, Texas, look no further than SupremeGarageDoorTX.com. Contact us today for a free estimate and see why we are the top choice for homeowners and businesses in the area.
Prodeg: The Ultimate Solution for E-Commerce Business
As the e-commerce industry is booming, online businesses are continuously looking for ways to streamline their processes and increase sales. One of the most significant challenges that online businesses face is managing their inventory efficiently. This is where Prodeg comes into the picture. In this article, we will take a closer look at Prodeg, its features, and how it can help your e-commerce business thrive.
Introduction to Prodeg
Prodeg is a cloud-based software solution that enables e-commerce businesses to manage their inventory, orders, and shipping from a single platform. It is an all-in-one solution that integrates seamlessly with popular e-commerce platforms such as Shopify, Magento, WooCommerce, and BigCommerce. Prodeg was designed to simplify the complex process of managing inventory for online businesses.
How Prodeg Works
Prodeg works by connecting to your e-commerce platform and automatically syncing your inventory data. It provides a user-friendly dashboard that allows you to view your inventory levels, track orders, and manage shipping from a single platform. Prodeg also comes with advanced features such as real-time inventory tracking, automated order fulfillment, and customizable shipping labels.
Features of Prodeg
1. Inventory Management
Prodeg provides a centralized platform to manage your inventory levels across multiple sales channels. It tracks inventory levels in real-time and alerts you when stock levels run low. Prodeg also allows you to set reorder points and automate purchase orders, ensuring that you never run out of stock.
2. Order Management
Prodeg enables you to manage all your orders from a single platform. You can view and process orders from different sales channels, automate order fulfillment, and generate packing slips and invoices.
3. Shipping Management
Prodeg streamlines your shipping process by enabling you to manage all your shipments from a single platform. You can generate shipping labels, track shipments, and print custom packing slips.
4. Integration
Prodeg integrates seamlessly with popular e-commerce platforms, making it easy to connect and manage your inventory and orders from a single platform.
5. Customization
Prodeg provides a customizable platform that allows you to tailor the software to your business needs. You can create custom shipping rules, labels, and packing slips that reflect your brand.
Benefits of Using Prodeg
1. Improved Efficiency
Prodeg automates manual tasks such as order processing and shipping, enabling you to focus on growing your business.
2. Real-time Inventory Tracking
Prodeg provides real-time inventory tracking, ensuring that you never run out of stock and can efficiently manage your inventory levels.
3. Centralized Platform
Prodeg provides a centralized platform to manage all your inventory, orders, and shipping, eliminating the need to switch between multiple platforms.
4. Customization
Prodeg provides a customizable platform that allows you to tailor the software to your business needs and reflect your brand.
5. Cost-effective
Prodeg is a cost-effective solution that eliminates the need for expensive inventory management software and enables you to manage your business more efficiently.
Conclusion